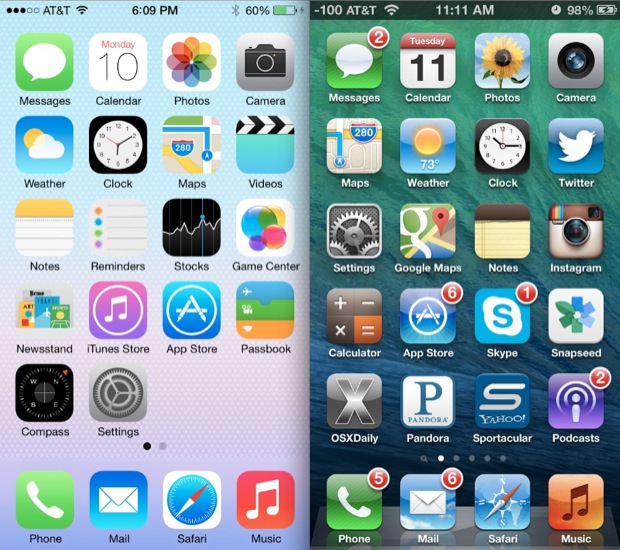 A few weeks ago, Apple released its new and improved iOS7. At first glance, the new operating system has almost all of the same features as its predecessor but with a totally new look. No more yellow legal paper for the Notes app, no more cheesy sunflower for the Photo app.
In other words, Apple added a fresh coat of paint.
There was nothing particularly wrong with the appearance of the apps before, but Apple follows the principle that if it ain't broke, break it, and living by that principle has allowed them to remain the gold standard.
In an interview with The Verge, Apple's chief of design Jony Ive explains that "people had already become comfortable with touching glass … So there was an incredible liberty in not having to reference the physical world so literally." Ive realized that the world was ready to see a new show, even if the world didn't know it yet. So he re-wrote his apps and gave the iPhone a completely new look.
In what ways are you allowing old features of your life to drag you into mediocrity? None of us are perfect. We are all on a journey, and we all need to make changes in our show in order to make it better. Take a moment and look at the habits you've developed. Are they helping you reach your goals? If not, it may be time for an upgrade, even if it's just a fresh coat of paint.
Maybe to you this means it's time to buy a new suit. Maybe it means it's time to surprise someone else with an unexpected gift. Maybe it means it's time to really look at yourself in a mirror for five minutes and ask yourself these questions:
Would you date you?

Would you want you for a boss?

If you saw you would you compliment your outfit?

Would you want you for a parent?

If you were your best friend, what three tips would you give yourself to update your operating system?
Whatever an upgrade means for you, don't let yourself get too settled into a life that is merely comfortable. Apple knew its customers were comfortable using the old system, and it used that as a launching pad into something new and better.
So what is your launching pad? In what areas of your life have you let the dust settle and are ready to re-write? Don't allow yourself to settle with comfortable — keep making changes and reach for Performance Level.
Other recent posts by Curtis:
Like what you're reading? Spread it around using the "Share" link below.
As a speaker and author, Curtis Zimmerman has impacted over one million people with his life-changing messages and award-winning programs. Curtis is an expert at transforming organizations by inspiring individuals to live their lives at performance level.
Want to be inspired? Check out his podcast The Next 24 Hours.